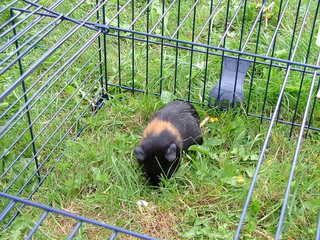 Coffee
Fudge
Well the other adition to the livestock last month were .....Guinea pigs!
Two young male piggies, called Coffee and Fudge. Coffee is still very shy and nervous, but Fudge was easily coaxed to us with food from the very beginning....he also likes to cuddle up under my chin and makes little whickering noises...
So we now have 2 hens, 2 guinea pigs and 2 cats....
(Some woolly lawn mowers I think next, to cut down on fossil fuel use when mowing all that grass....ha ha)