Well we have now got the chicken run sorted out tempararily....the girls are shut in the Eglu run at night, but we are leaving the door of the Eglu open at the moment so they can go out into the run in the morning. Opening the run and letting out the hens is the job of compost miss!
Then around the Eglu run is a 25 m length of moveable netting ( it can be electrified but isn't at the moment....)which we move every week to a new bit of the garden. We also move the Eglu and run every couple of days sideways so the hens get fresh grass ( and to TRY to save the grass!).
The intention is to build a permenant fenced run in the orchard area, with a hen house as well, as I an intending to get some ex battery hens to add to our little flock.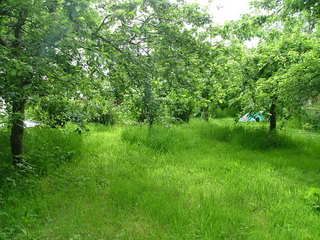 But the current resident fowl in there may not be so keen to move out!! (he IS a cock pheasant, so he might decide to stick around and get to know the hens!)