Today is Samhain, the start of the Celtic New Year, a day or two when the curtain between the sprit world and us is thinner and our ancestors are closer.
It is also, of course Halloween...All Hallows Eve...a more modern, originally Christian version of the pagan festival.
We don't go in for Halloween parties and suchlike at Compost Mansions, normally we have a bonfire, a clear out of the sheds and polytunnel and a tidy up to mark the end of the year. We eat some favourite, special foods and I mark the day in a number of small, private ways.
One of my regular things is I tend to do "kitchen witchery" today, with the cooking usually being pumpkin related! However I am still feeling very unwell so a lot of the things I
had
planned have been shelved for a few days but I DID want to make something for us to eat!
SO, some Pumpkin and Apple soup was in order...
The Pumpkin ( A Turk's Turban) was VERY resistant to being cut in slices! I tried ( and failed miserably) and then Compostman tried, he got a bigger knife out and finally his chopper (a scary thing...I don't use it as I have cut my self on it before now!) and the Pumpkin was defeated!
.
I removed the rind from the slices and roughly chopped the flesh along with a couple of onions ( chopped) 2 BIG cloves of garlic, a few peeled, cored ,chopped Bramleys, salt, pepper, thyme and sweet marjoram and my magic ingredient in Pumpkin soup, a small amount of some dark brown sugar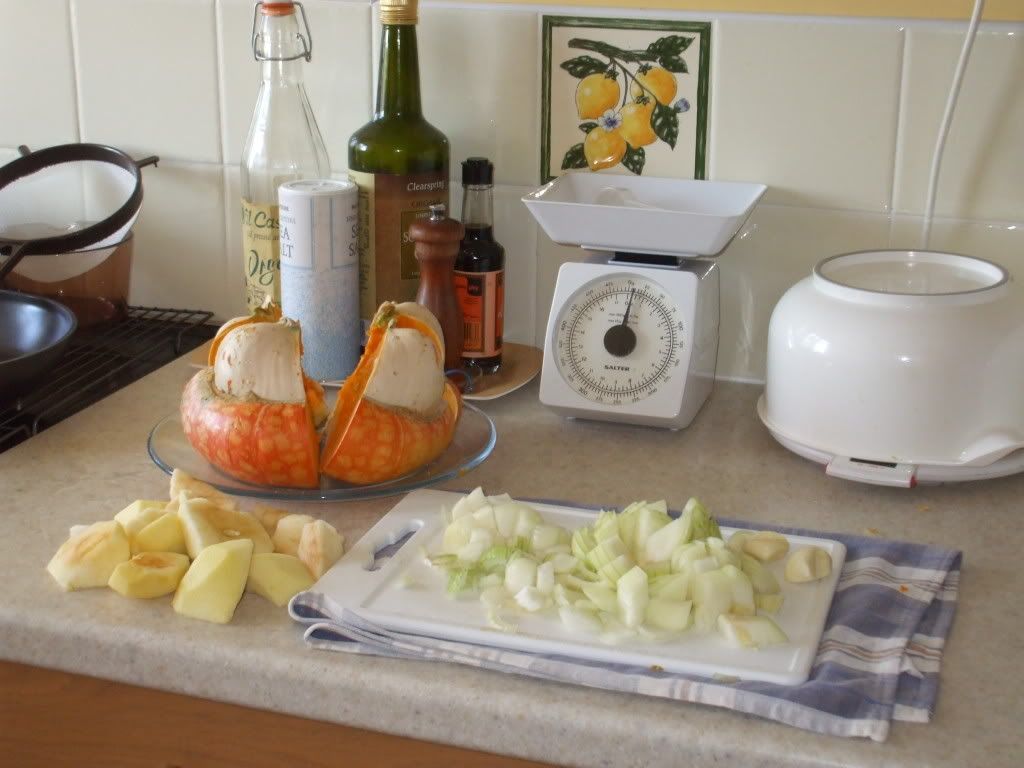 Pumpkin, apples, herbs, onions and garlic were all from our own garden, stock made from a local chicken ( NOT one of ours I hasten to add!) all put in a pot
brought to the boil....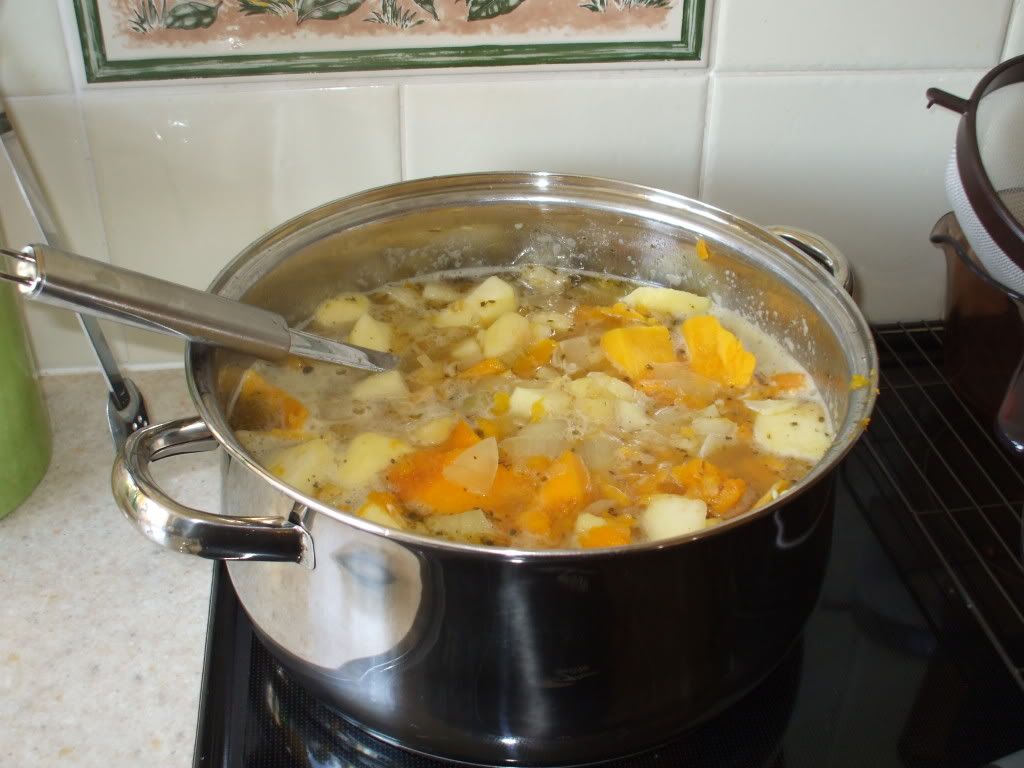 and left simmering on a low heat for an hour, then I turned off the heat and left it simmering for a further half hour with the residual warmth from the ring. I aways like to simmer soups for a long time, I find it improves the flavour!
I blitzed it up with my stick blender and we ate it with a slice of cheese on ( home made bread) toast. The pumpkin flesh was even more sweet than usual, I think the fact it ripened fully on the vine makes them taste the best. I have noticed the ones which I have to finish ripening on a sunny window never taste quite so good?
And as I chopped, sliced, stirred and tasted this morning I couldn't help thinking "Hubble, bubble..." but I guess thats a bit of a stereotype! ;-)))
I certainly WAS thinking of my family, my friends, my loved ones and hoping we all have a good year ahead. I also thought of all my loved ones, still with us or not and wished them all well.
Happy Samhain to you all as well, may
your
coming year be fruitful, peaceful and blessed.