After I posted yesterday about giving the Guinea pigs a cuddle because they couldn't go out in their run, I had a 4am "smack on the head" moment...why on earth didn't I put their run in the largely empty ( at this time of year) polytunnel??
So we did.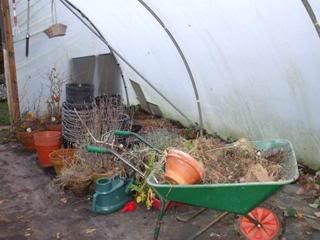 The polytunnel needs cleaning up now, ready for the ( rapidly approaching) growing season.
So compostgirl and I had a bit of fun this afternoon, cleaning pots, putting stuff in the wheelbarrow to go on the compost heap, cutting dead stuff off plants overwintering etc etc
And then a pair of feathered helpers turned up to join in!!