Today we finally sorted out the problem with Rats tunneling into the Eglu (I hope)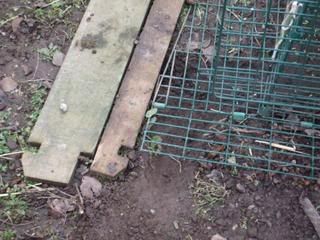 You can see where the rats have tunnelled in under the wire skirt of the Eglu run in this picture.
We moved the Eglu sideways and dug over and raked where the Eglu currently stands....its on some of the veg patch at the moment.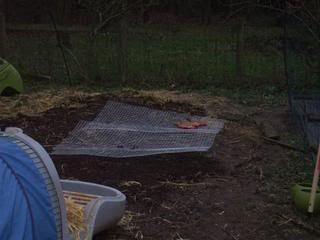 We then got some weldmesh ( 1 inch square) and put it down on the ground where the Eglu and run will stand.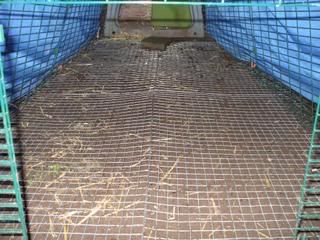 And put the Eglu on top....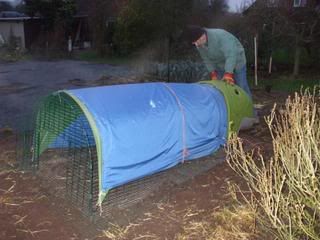 Ta da!! A (hopefully) rat proof run!! I added a tray of nice leaf mold freshly dug out from the compost bin for the girls to scratch over when they are shut in the run first thing in the morning... and their water and feeder as well, of course.
The girls are only shut in the Eglu and run from dusk till we get up in the morning....then they are let out to roam the orchard area which has a circumference of about 50 m. So they are only in the small Eglu run for an hour of so.
I MAY put down a thick layer of leaf mold and bark chippings for them to scratch around in but I need to check that its ok for them to scratch around of top of the weldmesh as I DO NOT want them to hurt their claws by scratching over it!!
I LOVE my hens!!