Today compostman and I racked off the home made Damson and the Victoria wine which was started back in August last year.
We had 3 demijohns of each fruit wine which needed syphoning into clean, sterile demijohns, leaving behind all the sediment and yeasty stuff. So all the equipment was sterilised with Camden tablets made into a solution and swilled around or through everything. I DON'T want this wine to spoil at this late stage!! Here is a clean demijohn filling slowly with Damson wine. Its good, but needs a few months more to be ready to drink really.
And here is the results of this afternoon's hard work ( Hic!! well I had to test every demijohn to make sure it was not off, didn't I??)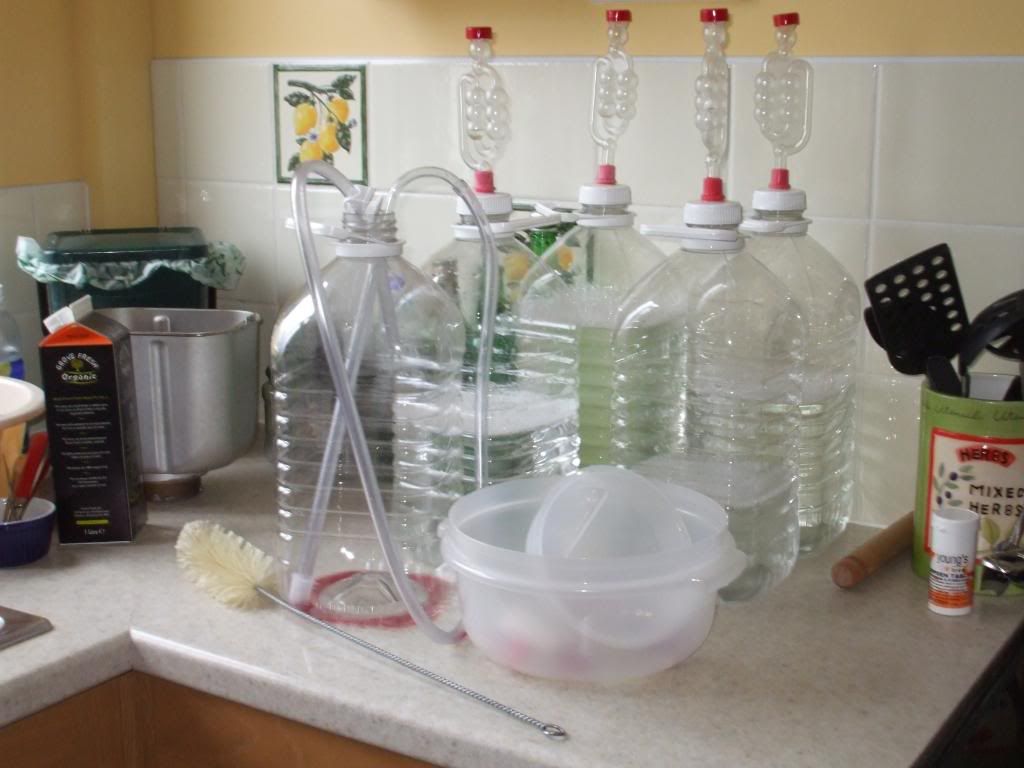 Washing up time!
The Victoria wine is WONDERFUL!..It tastes like Port, but without being ruby red, if you see what I mean!!
Next task is to do the same to 50 litres of Cider.....!
I really love the fact that we make stuff like this, I LOVE being more self sufficient and growing and making food and drink. I feel happiest when we have lots of Jams, Chutenys, Wines, candles, soaps amd such like, all made by us. I also feel good when I see lots of compostman's home made bread and cakes, and meat from 10 miles away in the fridge, and so on.
I honestly feel that with Peak Oil either coming or having been reached we HAVE to learn to be more self sufficient and self relient ( if we can), but at the same time foster an increased sense of community so we can also share our skills and resources with our neighbours if TSHTF........
Hmmm drinking home made wine makes me philosophical, obviously!