I decided today to go for a proper walk in our wood. It was still freezing at noon.....
The cobwebs were still frosted......and magical.
I wandered down into the wood and found this amazing log which has been there for at least the 10 plus years we have been in our house.....
and I noticed that the "Thrushs' Anvil" was in use again :)
The visibility was NOT very good today!!
Where has my house gone??
A badger snuffle pit.....with claw marks!!
Frosted Holly.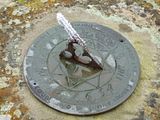 My sundial again!.................. sorry;)
See the frost!!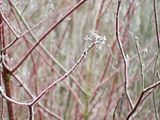 And finally, one of my favourite plants....the Teasels......I LOVE them!!!
I am so lucky to live in such a beautiful place and to have such a wonderful wood and garden.
I need to enjoy it more and work in it a bit less I think!! So often we take for granted the good things we have right under our noses...if I had gone out for a day trip somewhere and wandered round a little wood like ours I would have been delighted with the outing...
but because it is "ours" I usually only go and do work in the wood, logging, gathering firewood or doing chores...I NEED to make more time to actually "be in the moment " and ENJOY the wonders on my doorstep!!
in fact I am going to add that to my list of "things to accomplish in 2008"!!