I posted a few days ago about the drop off in egg laying by all the girls..
Henny has laid fewer eggs as she went broody with a capital B in the middle of August. She was behaving very oddly and hogging both nest boxes, pecking anyone else who tried to lay.
We COULD have left her to be broody on some rubber eggs, OR put her in a Broody Run ( wire cage, no nest material, just food and water) OR given her some fertile eggs to hatch ( but Swetiepie got there first and there is no more room for a broody hen to sit...)
OR dunked her in cold water to cool her overheated bits and stop her hormones in their tracks.......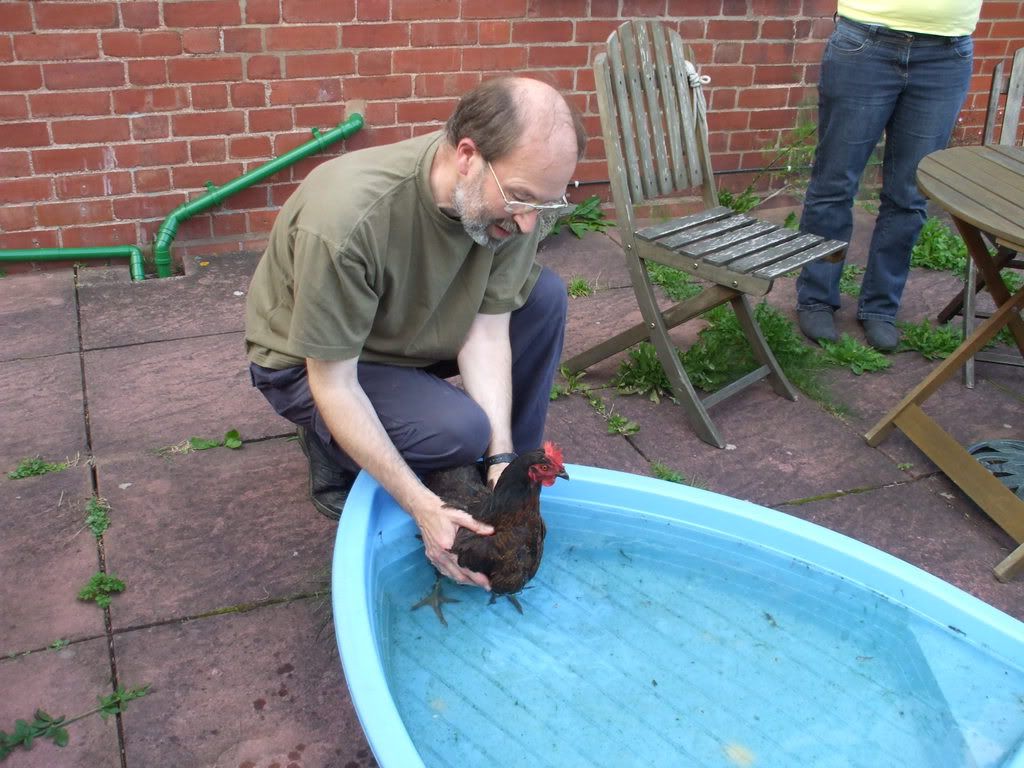 So Henny has been dunked several times in an old paddling pool of water to cool her broodyness out of her.
I dunked her the first time and got drenched for my trouble so the second time *I* held the camera and let Compostman do all the wet work
Despite all this nonsense, Henny laid 21 eggs in August.
Sweetiepie is still sitting on the eggs, still bok bok bokking mad bad and dangerous and we are now counting down ( with great excitement on all our parts) to chick hatching day ( fingers crossed!) The eggs should hatch out Thursday or Friday this week! Sweetiepie has laid 12 eggs in the 13 days before she started sitting on the fertile eggs.
Ginger as usual was the star layer, 28 eggs in August! Good girl Ginger!
Closely followed by Attila who laid 27 eggs. Well done that hen!
Cathy has laid 23 eggs and is sporting the latest fashion look...a bare purple bum ( I sprayed her with Gentian Violet to stop her bald bits being pecked....)
Genghis laid 4 normal-ish eggs and a load of useless ones. She ended up laying a ( useless soft shell) egg on the ground one day because of Henny but she usually lays a load of messes in the nest box which means I have to clean out the nest box every day...and she pecks the other's eggs if she gets a chance( grrrrr that hen is REALLY living on borrowed time now...)
The two new girls are also doing really well! Babs has laid 8 eggs out of a possible 9 and Goldie who only started laying 3 days ago, has laid an egg every day!
So...things DID pick up on the egg front
BUT the bullying and pecking continues and I am STILL having to do lots of extra work with the hens, rather than just letting them out and collecting the eggs and locking them back up at night.
The Rhode Rocks, Babs and Goldie are being terribly pecked...really bad stuff..and unsurprisingly the worst culprit is Henny, who WAS at the bottom of the pecking order before they arrived.
This is not uncommon and I knew it might happen but it is still not nice to see...my lovely, soft, best egg layer ( normally) gentle, friendly hen being an absolute horror to the two beautiful new, frendly, EXPENSIVE hens I have only just got.
Ah well..I hope the new girls will be accepted in a few more weeks...as long as I can stop them all killing each other first!