I have added some stuff...it is in
bold!
Pamper time!
I am feeling very achy and stiff at the moment, a combination of the virus and general stress of life at the moment I think. I can't do much outside at the moment so I decided to make up a new batch of skincare oils and toners.
The toners are floral waters mixed together and stored in a dark bottle, I like to use Witch Hazel, Lavender and Geranium floral waters
(also called hydrolats/hydrosols if you are looking to order any)
in equal proportions....I find this to be refreshing and to remove any trace of oil left from my cleansing routine. I have mainly dry ish, VERY sensitive skin (especially in winter) so I have developed a recipe which suits me, but it would be a good general toner for most skins I think.
If your skin is oilier use more Witch Hazel probably.
I then got out some of my essential oils from the dark, locked cupboard where they live:
sorry that you can't see which bottles are which! IF enough people are interested I will post a list of the oils I use most often...I have at least 2 other boxes with other oils in, some for household use ( I use up any which have gone past their use by life for putting down drains!)
I keep a few bottles of essential oils out on my dresser, Lavender and Geranium mainly as I get through such a lot and they are relatively harmless if spilt BUT Essential Oils are potent and are best kept in the dark, out of reach of children!
I have nearly run out of my facial oil and I needed to make up a slightly more rich version to use on my face in winter, so I used more Jojoba and less Sweet Almond oil than I use in Summer, with some Rosehip and Apricot Kernel oil as well as a base. I then added a total of 6 drops of essential oils to the 30 ml of base oils
( the proportions of the base oil were 10 ml Sweet Almond, 10 ml Jojoba, 5 ml Apricot Kernel, 5 ml Rosehip oil), I don't want or need any stronger a blend as it is for my face but for body use I would use 4 drops per 10 ml base oil, rather than the 2 drops per 10 ml base oil I use for my face. Today I used Lavender, Rose Geranium and Rose Otto oils, all wonderful for facial blends and oils I personally love......later on in the Winter I might add some Frankincense, good for all skin care!
I often find I tend towards floral oils when I am low and more earthy oils when I am feeling more grounded ( like Vetivert! Oh how I LOVE Vetivert! the scent of leaf mold in a woodland! ) which goes against accepted wisdom...usually we are supposed to be drawn to the oils which are likely to do us the most good in healing us ...but I find I am drawn towards the oils which reflect how I am feeling....but as they all have potent healing powers, who am I to judge?
I then moved on to making my all purpose soothing massage oil, a blend of Lavender, Neroli and Yarrow in a base of Jojoba and Sweet Almond oil. This is what gets massaged on to any stiff, or sore place at Compost Mansions!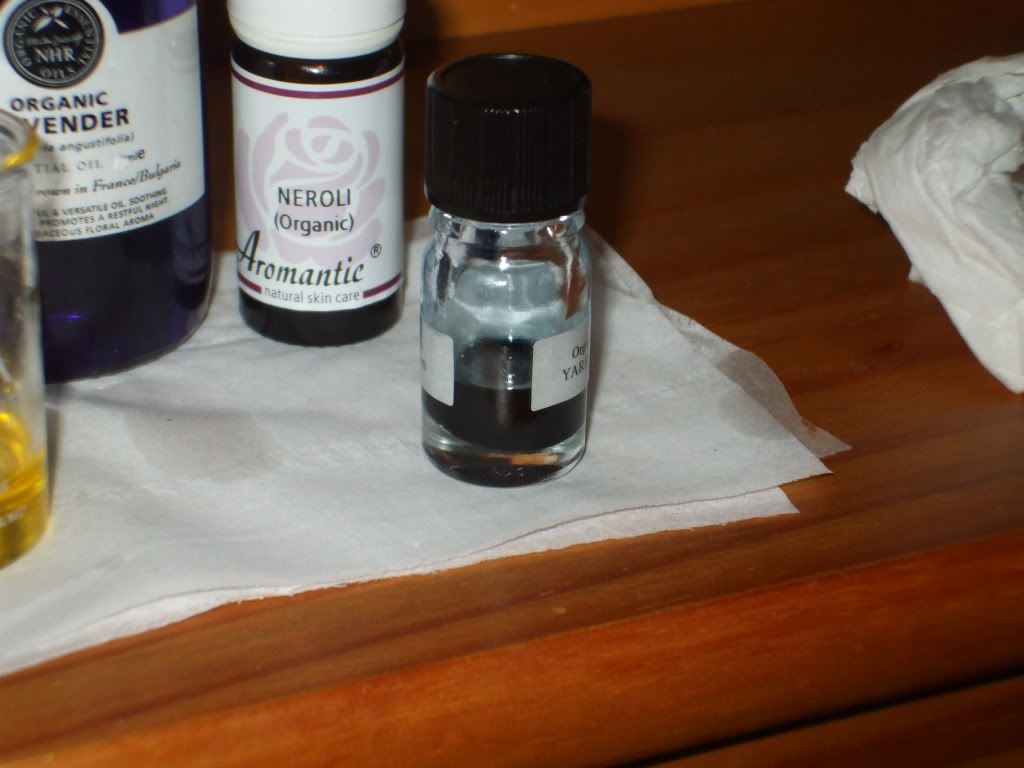 The blue of the Yarrow is SO intense, you can't really see it well in this photo ( I tried but couldn't capture it!) Its the colour of india ink!

If you are wanting to cut costs then Petitgrain can be substituted for Neroli and Chammomile for Yarrow....Yarrow IS cheaper BUT harder to find....
Later on I may make up some more anti viral oil blend, I have just bought some Lemon Eucalyptus which has the most wonderful aroma and I shall add in some other virus busting oils.
Compostman has just informed me I put " anti vital oil" the first time around...oh well..thats how I feel at the mo...anti vital!!
So a nice, productive hour I spent at my bench today making up potions.......continuing on with the Samhain theme? ;-))
******PLEASE remember though, *I* know these are the right oils and strengths for *me*, if anyone reading this wants to make up a similar blend and has ANY medical condition or is pregnant or nursing PLEASE check with your Doctor or a qualified Aromatherapist
first
. Most of these oils would do no harm to anyone but
some
seemingly innocent oils can cause problems with ( for example) high blood pressure.*****
Thank you!
I have added in some extra information and reposted this ( the edits are in bold ) so people will know it is added too...I hope I haven't confused anyone!