Further to my last post and the various kind comments I received ( thank you kind blog friends.....)
I have a confession...we actually made twice the amount of cider shown in the last post.....and have already drunk the first 35 L since May....we actually got through it very quickly...and were a bit alarmed at how fast the levels dropped!
So we left off decanting this one in the vain hope that, IF it was in a 25 L container, ( out in the garage...) we would be less likely to start pouring a glass ( or several ) out from it. As it it bloomin heavy to lift and I don't actually think I
could
pour a glass out of it....
Or something. Well that was the reasoning. Maybe. Or was it just we didn't get around to it?
Can't really remember.........
;-)
And I really must thank you all for your good wishes, I feel marginally better than earlier in the week but am still very weak and feeble. I have cancelled taking my class for their Forest School session on Thursday AND have said I am not going to do Eco Club after school. Which is a big disappointment for me as I enjoy it so much BUT ....I really don't feel capable at the moment.
I was a bit puzzled at the comment from
Thursday
about how industrious the kitchen is...then I looked again with someone elses eyes ( well, mine are not much use at the moment!)
at the photo and realised that, with the big container of the old 2007 cider, the new cider bubbling away, the apples and pumpkins, the dehydrator, the jars of chutney etc...it DID look like we have been busy!
Actually, with the chutneys, its just I am too lazy to put the jars away and then have to get them out of the Chutney and Jam store ( yes we DO have such a thing....) to label them and I haven't labelled them yet and am leaving it there in the hope I will remember to get around to making some labels before it gets to be 2009.......
I DID manage to clean out all the chickens runs yesterday, they were all in a bit of a state and I shovelled an AMAZING pile of composted down chicken poo and bark chippings from the runs....it was WONDERFUL stuff and I can't wait to get using it next year! So all the hens now have clean houses and freshly clean runs full of nice composted wood chips from our wood.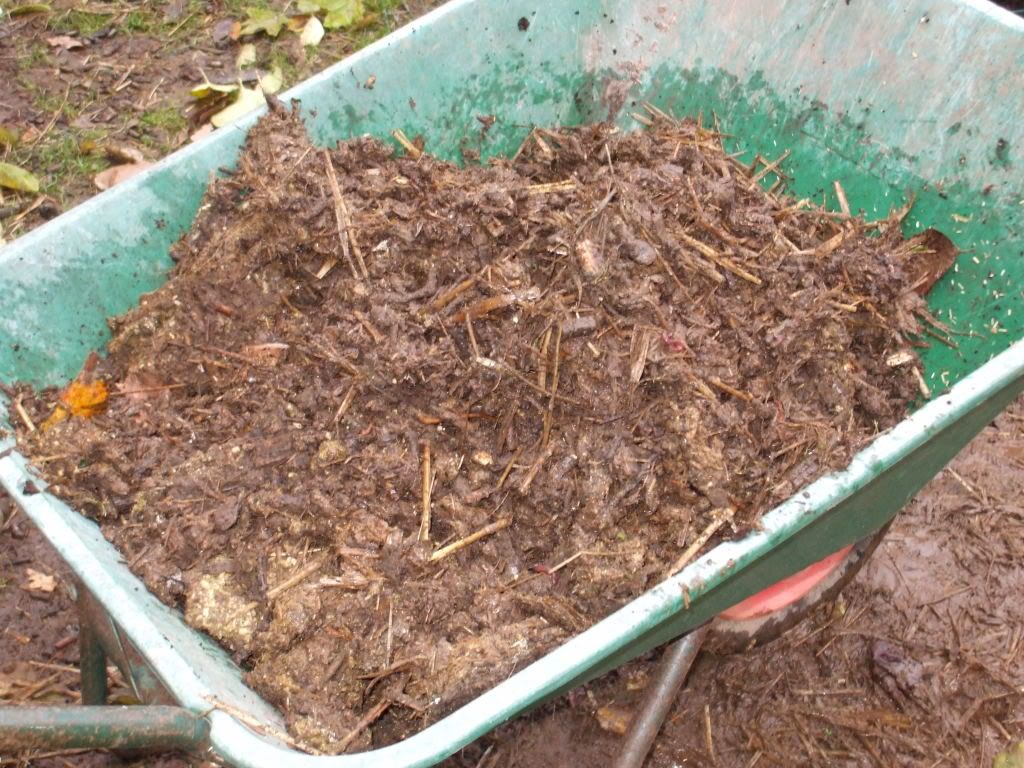 BUT I think it was a bit too much for me, as after an hour of doing that I came over a bit wobbly and had to go and lie down for 3 hours and sleep......................
I like the symmetry of cutting down our trees for wood, chipping the twiggy bits and storing them to use as mulches or in the hen runs and then returning them to my compost bins ( with added Factor P for POO) to turn into lovely compost, to use to grow my veg, to eat.....
The Wheel of Life...I feel a "Lion King " moment coming on.....
( sorry....but I AM ill, remember....so am excused normality for a few more days...)
I also have been most amused by the antics of all the hens, they are very funny!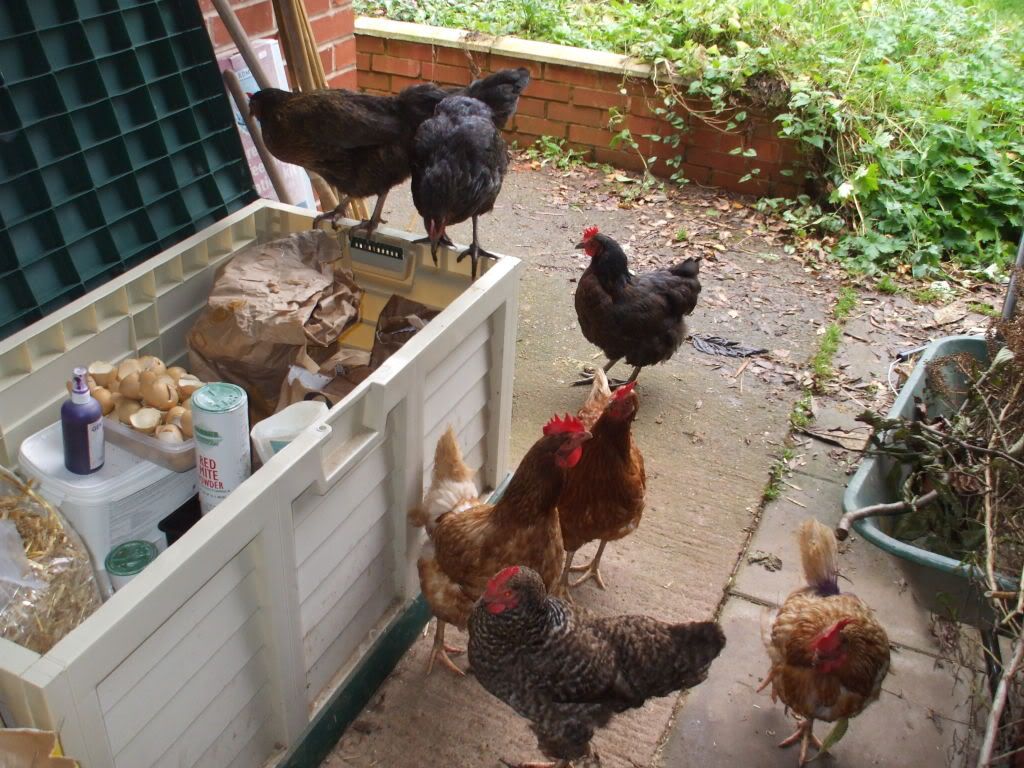 THIS is one of the chicks! She is the no 1 pullet and is VERY brave.....
SO...I am slowly improving ( although am tired , very easily, and have been falling asleep at all odd hours of the day...if I sit down I nod off.)...and life continues on....