Hello lovely people!
The latest trick the hens have adopted is to lurk around in the depths of the "lean to"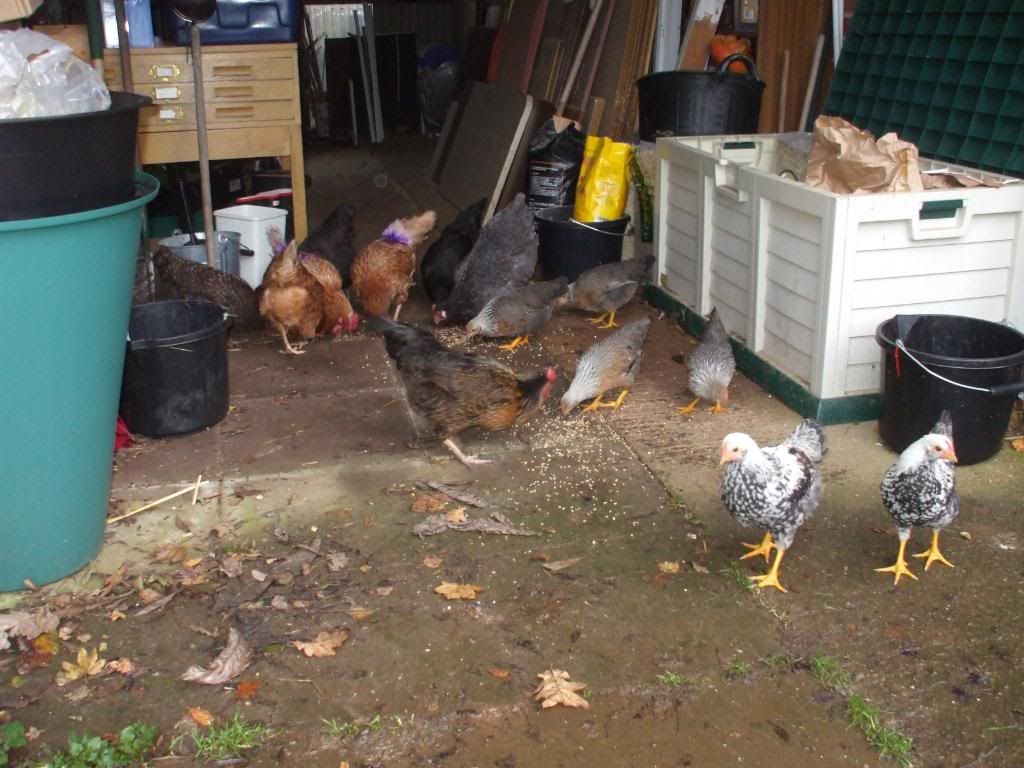 This is a substantial 3 and a half sided building on the back of another building, which acts as log store, general store and dumping place for all sorts of stuff...its also the place where the hen feed lives...
and now they all have taken to hanging around in there, terrorising the cats ( who like to snooze on the log piles or hunt for mice in there) and generally acting as if they own the place....
which, of course, they do!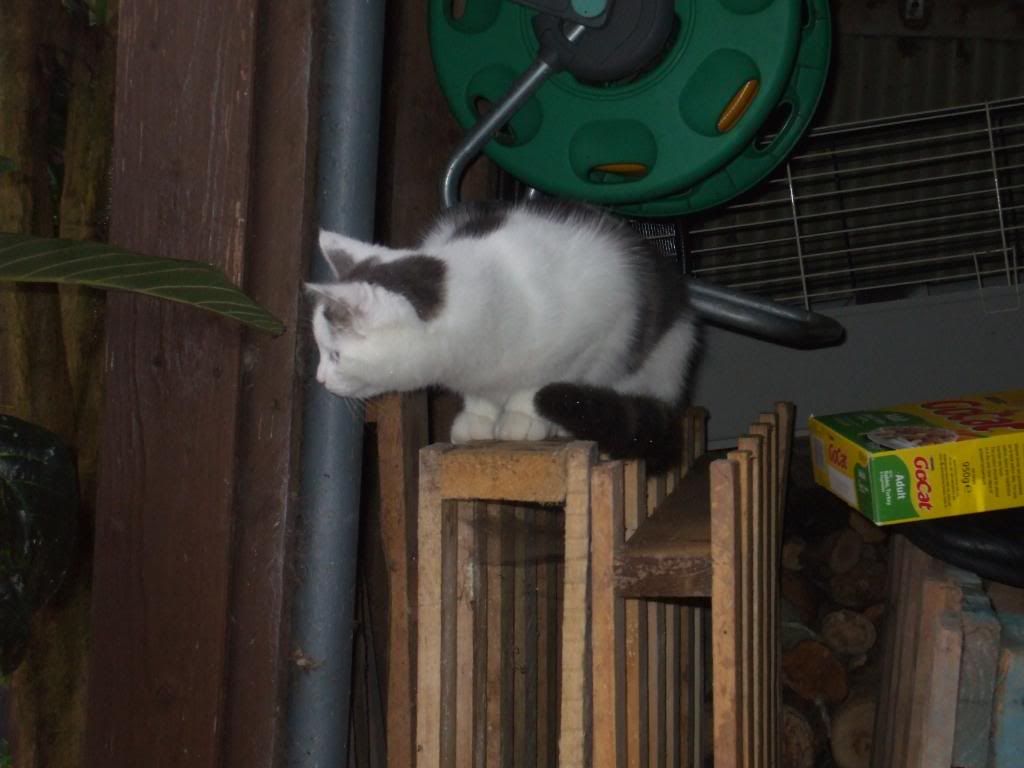 Tom looks on nervously as the hens gather around his perch.
So many of you have asked me questions about my hens that I have decided to do a post about what I do with them!. I am NOT a hen expert by any means, but I did keep chickens as a teenager ( Old English Gamecocks) and I
have
read and researched a lot and asked a lot of experienced chook keepers what to do, so here are some questions I have had about the hens.
I've been wondering lately about woodchip. Is there a special kind I should get? And where from! My girls have only been with me for about 3 weeks and could really do with a layer of something down in their run as it gets a bit boggy. I let them out for a few hours a day but can't leave them out as I'm on a housing estate and there are a LOT of cats about.
I use Easybed inside the hen houses ( along with straw in the nest boxes)..its really good..Hemp based stuff seems so light that it gets kicked around whereas woodchip bedding does not.
Inside the run? I use our own wood chippings from our own wood..when we fell trees for firewood we chip the twiggy bits and I use that inside the runs.
Remember that my girls are only in their runs for an hour or so a day typically...then they are out free ranging in the garden.
I think for putting in a run for hens who are kept in the run mostly, wood chippings is a good thing as it gives them something to scratch and furtle in...so a bag of untreated bark or chippings would be good? But put a pile up the middle line of the run if you can and let THEM spread it all out.....as that will be part of the fun for them...
One thing I have noticed though, if they don't get let out much, they don't mind being in a run nearly all the time, as long as it is a reasonable size and they have stuff to entertain them....shiney cds hanging up, an apple to peck at, is something my lot like.
BUT once they DO go out for a longer time..they rapidly get very disenchanted with being kept in their run, however huge and palatial it is.
My lot even hate being loose in a 50 m circumference paddock...because they have normally have had access to 3/4 of an acre of garden and orchard.
spoiled , or what...( roll eyes)
I just thought I should warn people about this...it IS only my observations of mine and other friends hens
I have seen hens who have an hour out at the end of the day and they are happy in their run the rest of the time as they know they get some "out" time later on
Although the hens need a good big space to scratch and play, as long as it is
big enough
for them all in the run, if they
never
get more, they don't seem miss it but it seems to me that once they DO get more space, it upsets them not to have access to it all the time ...IYSWIM
Please note I am NOT making suggesting that it is OK to keep hens shut up in "battery" conditions here! A hen run needs to be big enough so no hen gets bored and starts pecking, or feather eating, and there needs to be somewhere for the lowest hen in the pecking order to get away from the others if needed.
Just wondering how often do you worm your hens?
I worm my girls every month with Verm-X liquid - I tried the granules but the girls turned up their beaks at it so now I use the liquid version. I squirt 4 squirts onto a slice of wholemeal bread, one in each quarter and then feed each hen a quarter of the slice. I do this for 3 consecutive days, on the first, second and third of every month.
I also look at the hens droppings to see if they look ok and if there are any visible worms...and we move their runs and paddock onto fresh grass regularly to minimise the build up of worms.
So far that is all I have had to do. Verm X is good stuff.
Also I use Barrier Organic Red Mite and Louse powder for pest control..although I now only use one or the other as they both contain (apparently!) the same ingredients
I use Poultry Shield for "deep" cleaning of the hen houses, just in case..although ( touch wood) so far I have not seen any red mite.
I have a first aid kit of Gentian Violet, veterinary wound powder and I also would use my Aromatherapist knowledge to treat any injuries.
I give my chickens water laced with Organic Apple Cider Vinegar every day and it DOES seem to have helped the couple of hens who previously laid soft shelled eggs.
The chickens have free access to grit and chick grit in bowls in the runs, as well as free ranging for 6 plus hours every day so they get enough grit(essential to grind up their food as chickens don't have teeth)
I feed my hens Organic Layers pellets /Chick Crumbs/ Growers Pellets depending on their needs, I also give them Organic Mixed Corn in the afternoon as a treat, and use it to entice them into the runs at dusk!
They DO get various extra treats...cheese and soft soaked bread are their favourites!
But stolen, illicit stuff like cat meat. or mice, or frogs... is the best stuff in their eyes! ( ooh when they get a frog it is horrible!)
Hope this helps, any more questions put them in the comments and I will do another post later!