ARRRRRGHHHHHHH! I have spent nearly all day today doing stuff with hens, putting them in one house, moving them out of the other!
The new girls are proving to be a bit more work than anticipated!
Friday the ex battery hen laid an egg this morning and when I went to get it I found a lot of blood on the straw. Close examination of her back end revealed that
someone
had been pecking at her bald bottom and pecked a nasty wound in her vent ( thats the single exit for eggs and faeces which chickens have)
Now the new girls all have a greater or lesser degree of feather loss, some of it from going broody or starting to moult maybe, but quite a lot from feather pecking. I don't know if it is self inflicted feather pecking ( could be caused by mites/lice/lack of protein/boredom/stress or just because they feel like it....) or if it is aggressive feather pecking of one bird ( could be caused by lack of protein/aggression/boredom/stress or just because they feel like it....)
So...Compostman and I got Friday cleaned up, wound powder puffed on and then gave her a good powdering of "Barrier" louse powder. This is very nice stuff containing Lavendin and Tea tree essential oils, so I approve of it, its Organic AND it will help with the wound as well as any lice. It also covered up some of her red bum!!
We then did ALL the other birds, including Henny and Ginger
and
I checked them all carefully over for wounds etc and found none BUT lots of bald patches on the new girls.
The ex battery hens have been de beaked on the top beak so it probably isn't them doing the pecking, it can't have been Henny or Ginger as they have been kept separate SO it looks like one or other ( or both) of the Marans have been feather pecking the others for some time. And now Friday has a wound it could get a lot worse(hens will keep on pecking at a bloody wound!)
Suspiciously Tuesday only has a sightly bare bum but the rest of her plumage is beautiful!
So .........Compostman is making an ark to put Thursday and Friday in and, in the mean time, poor old Fudge the Guinea Pig has lost his outdoor run as last night the 2 ex batts were put in there with a cat carrier as a sleeping house...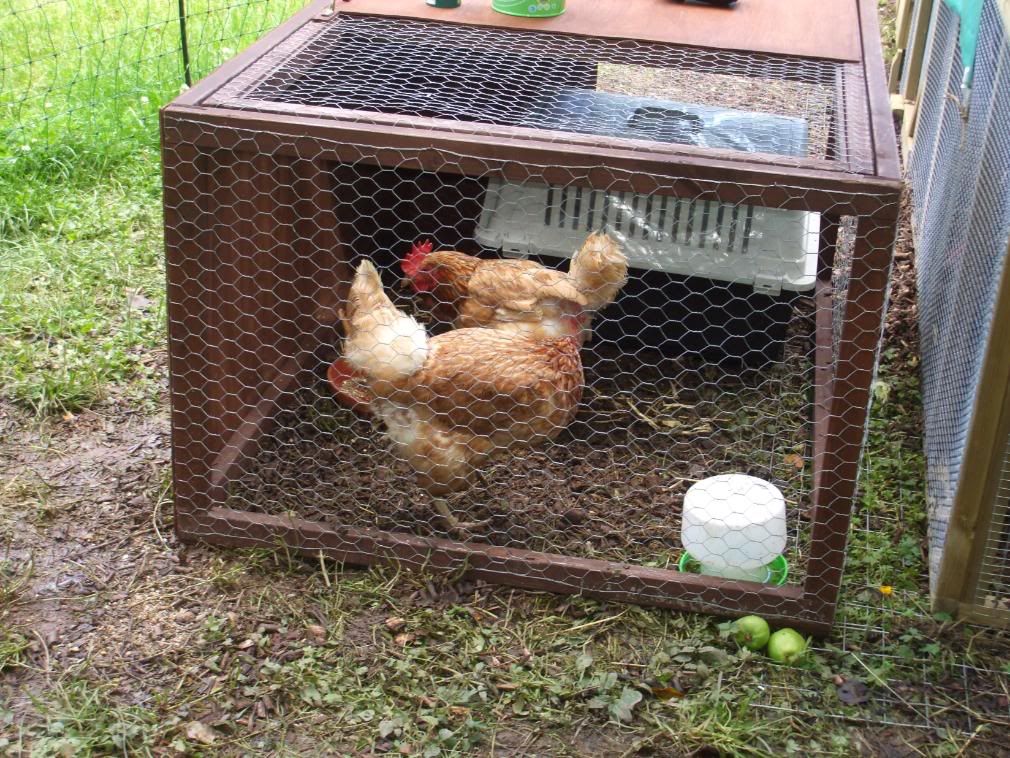 It looks a bit like a hen shanty town in the orchard at the moment!