Today we had another play session in the woods, this time with my friend M, her children N, K and J and a couple of Compostgirl's school friends as well.
Saturday was actually a lovely very hot sunny day here so it was lovely and cool in the woods.
We all went down to play in the wood mid afternoon,
Compostman lit a fire to cook on while I got my wonderful Kelly kettle going for hot drinks.
When all this was happening the children were playing tag, pretending to be the 5 Billy Goats Gruff on the bridge over the little ditch, making dens, collecting sticks, climbing on logs and gennerally haveing FUN!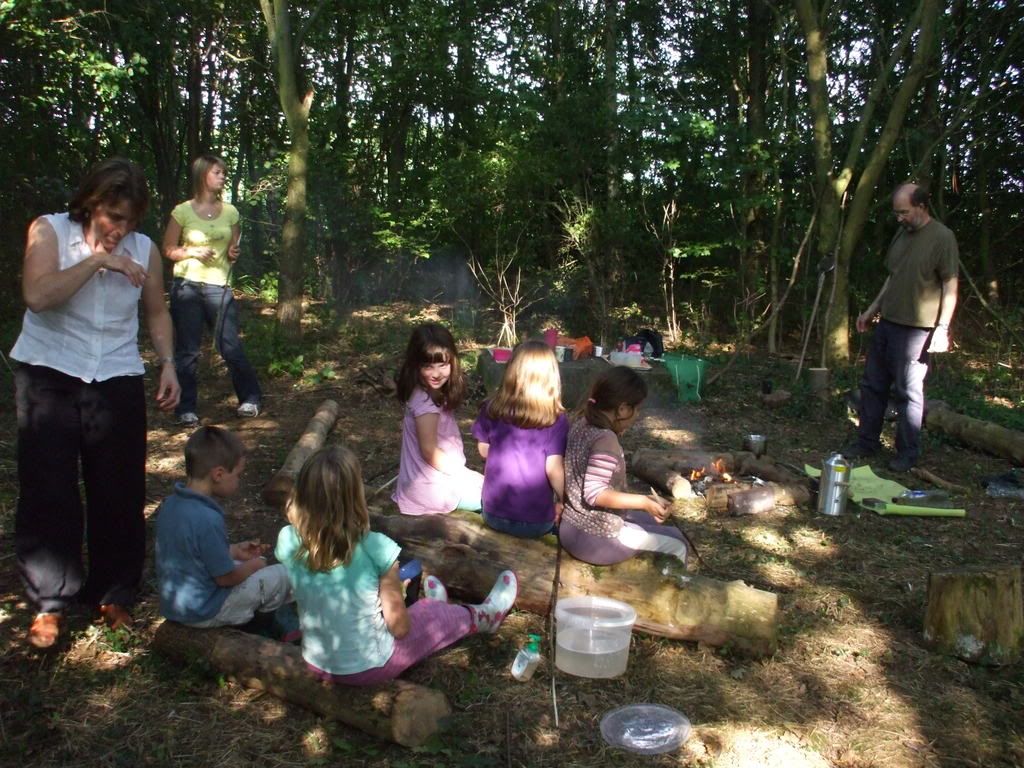 We all had hot drinks ( chocolate for the children, tea for the adults) made with boiling water from the kettle while I cooked sausages and onions over the camp fire and then we all had Hot Dogs ( with ketchup)
Then the children cut, sharpened and peeled sticks and toasted multiple marshmallows , while Compostman made popcorn....YUM!
We finished the day with more running around, and a final play before going back up to the house smelling strongly of woodsmoke!
Just in case anyone was wondering, we DO come and play in our wood on other occasions..Compostgirl quite often goes by herself or with friends and makes dens and plays round the fire pit area BUT we only have fires and food when I am there to supervise and keep an eye on everything. Just to be safe!
Oh and in answer to a few queries, I AM a trained Forest School person, I DO have lots of First Aider qualifications including a "First Aid in the Outdoors" AND a "Paediatric First Aid" certificate....Compostman and I ARE both fully CRB'd and I HAVE done a lot of this sort of stuff, as has Compostman , although he is not a trained FS person.
When Compostgirl is a bit older we shall have camp outs in the wood and she can do the fire stuff with me...for now she helps to light it, has fun using my flint and steel and loves to poke sticks in the fire and to toast things.....
If YOU are reading this and want to do similar stuff , why not contact your local Wildlife Trust? They may well have Nature/Play Rangers who will be doing this sort of thing? Or the Scouts or Guides do it , as do the Woodcraft Folk.
As do I, for birthday parties and suchlike! ( for a fee!)
I LOVE to play in the woods!