Yesterday it was all go at Compost Mansions!
I have been looking at the Broody Ark for the last few days and thinking the ever growing chicks have less and less room in it and wondering what to do.
I can't let them out to free range in the Orchard as they are too small and vulnerable to the cats catching them:- at least 2 of our cats happily catch pheasant chicks each year and the Sweetie Six DO look just like pheasants at the moment!
The Orchard is fenced off with electric fence wire, but it isn't electrified, so is not a barrier to the cats.
I DO let the Chicks and Sweetiepie out regularly throughout the day; I take a mug of tea and drink it whilst they all have 10 - 15 mins roam around and also if I am doing any chore in the general area of the Orchard I let them out.
BUT we decided the time had come to DO SOMETHING about it all. Compostman is making a bigger run for them, but in the meantime I have had a swap around of all the hens and the hen houses.
We moved the Eglu to a fresh patch in the Orchard and I have put Sweetie and the Sweetie Six in there;
It has a much bigger and taller run which allows the chicks to stretch up and flap around much more!
This has displaced Babs and Goldie, but I decided not to just let them take their chances in Cluckingham Palace with all the others: I decided, instead, to break up the group so as to " wrong foot" the pecking order...
So Genghis and Henny ( main culprits) have been moved into the Broody Ark and Babs and Goldie have gone in with Ginger, Attilla and Cathy.
I HOPE that this will give them time to settle down in Cluckingham Palace and let Henny get over being such a bully!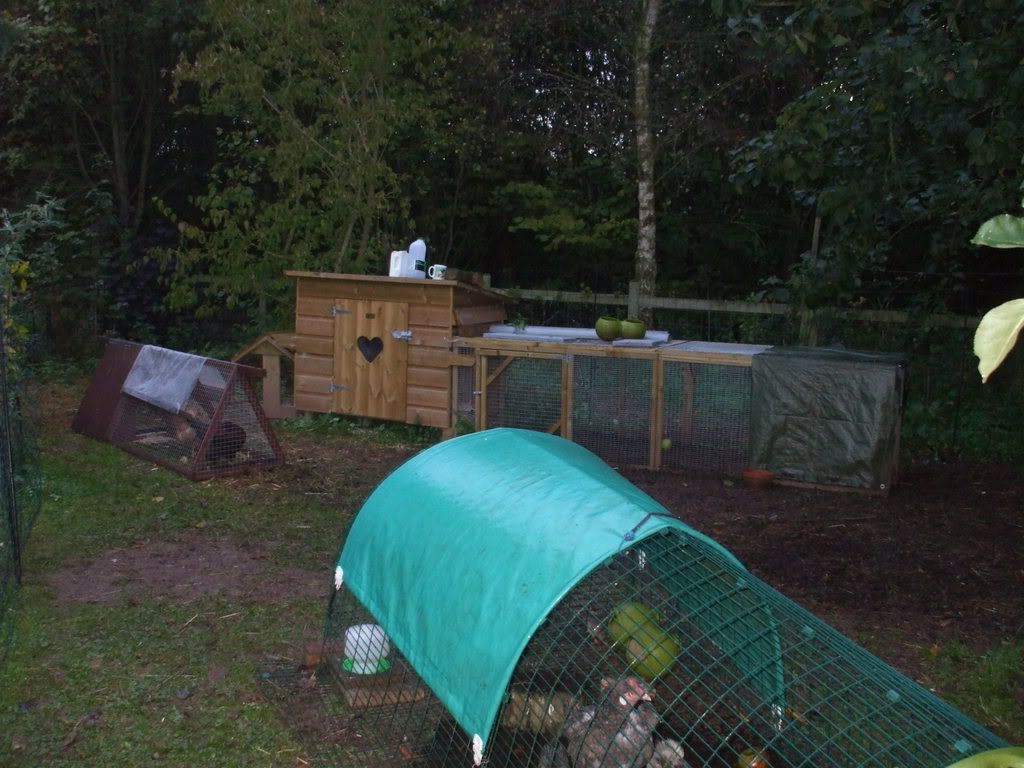 Someone asked me recently how I kept the food dry in the feeders, well I have a tarpaulin fixed over the end of each run which keeps the rain off the food and provides some shelter for the girls.