Several people have asked me how I know who has laid
what egg?
I watch who goes in to Cluckingham Palace or the Eglu, and correlate the egg laid with the hen...I also have been known to shut a hen individually in each of the houses and runs , if she hadn't laid, to see what colour/shape egg she lays.
I only did this when I first got the girls, I had Henny and Ginger first and they lay different colour eggs ( dark brown speckled, pale brown and pointed) so that was easy. I then got Sweetie, Attila, Genghis and Cathy
Sweetie and Attila lay similar creamy coloured eggs but they are VERY different shapes, Attila's are long and pointy, Sweetie's are more rounded. Genghis doesn't lay, or lays a soft shell mess...when she DOES lay its a huge misshapen thing!
Cathy lays very round large pale brown speckled eggs, similar to Ginger but more round.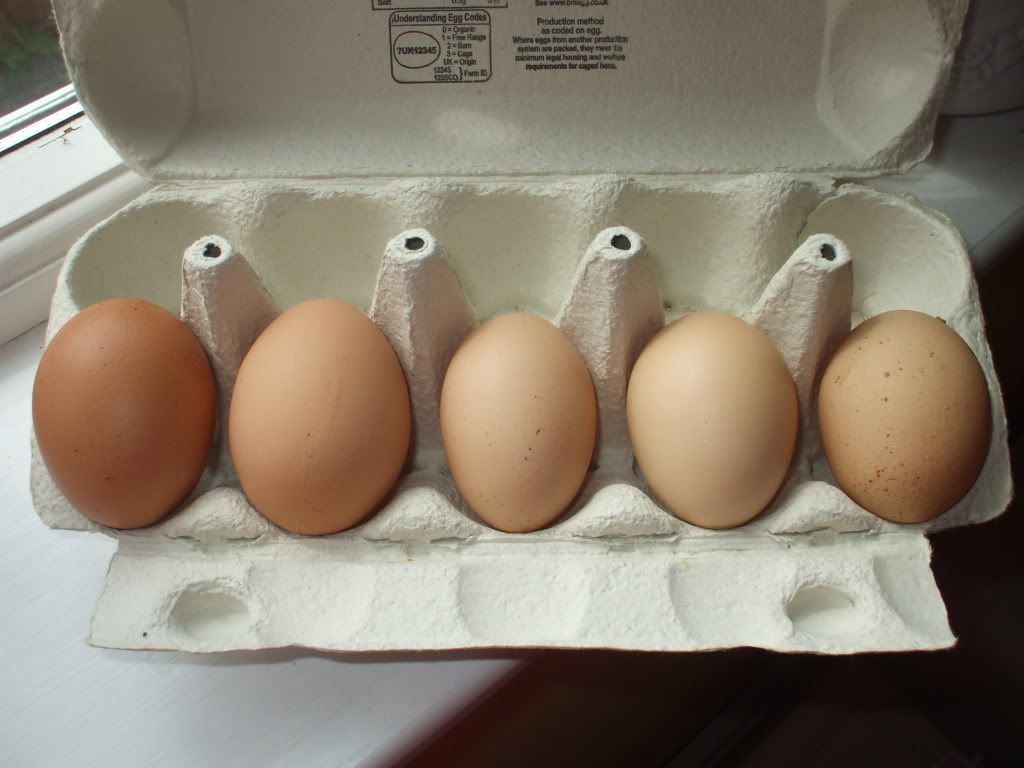 From left, Henny, Ginger, Attila, Sweetie, Cathy eggs.
Babs and Goldie came here only a couple of months ago and lived in the Eglu so they were easy to identify! They both lay mid brown eggs, Babs lays slightly speckled eggs, often a double yolker! whereas Goldie's are plain and a little smaller.
It IS useful to be able to tell the eggs apart, although I rather think Compostman thinks I am mad to do this........