I have been brewing this post for many weeks now!
This is the boot of my car, loaded up for a trip to a recycling site ( it doesn't matter which one, I have several around us) because I am going out in the car for another reason.....it might be to collect Compostgirl from school or to go to town and get some food and go to the library...but anyway the recycling goes in my boot JUST IN CASE I pass a recycling point.
All our waste collected on Tuesdays by the bin lorry goes into landfill, so it is up to US to make sure we recycle ( separately and at our own convenience, expense, washing, storing, sorting and transport) any recyclable waste.
This is what I put out for the collection this week...we do not have a kerbside(what's that?) collection of recyclables...we are " too rural" for Hereford shire Council to provide one: This week we put out a plastic laminated /cardboard box ...a mixed packaging box ( my pet hate!) which means neither the plastic film NOR the cardboard can be recycled...( my bad, I shouldn't have bought the paddling pool for Compostgirl which was in it...) and a (degradable) black plastic bin bag with a small amount of plastic packaging which cannot be recycled in my area...( Our council only recycles plastic milk bottles/pop/water bottles with the recycling symbols "1" or "2" on them....)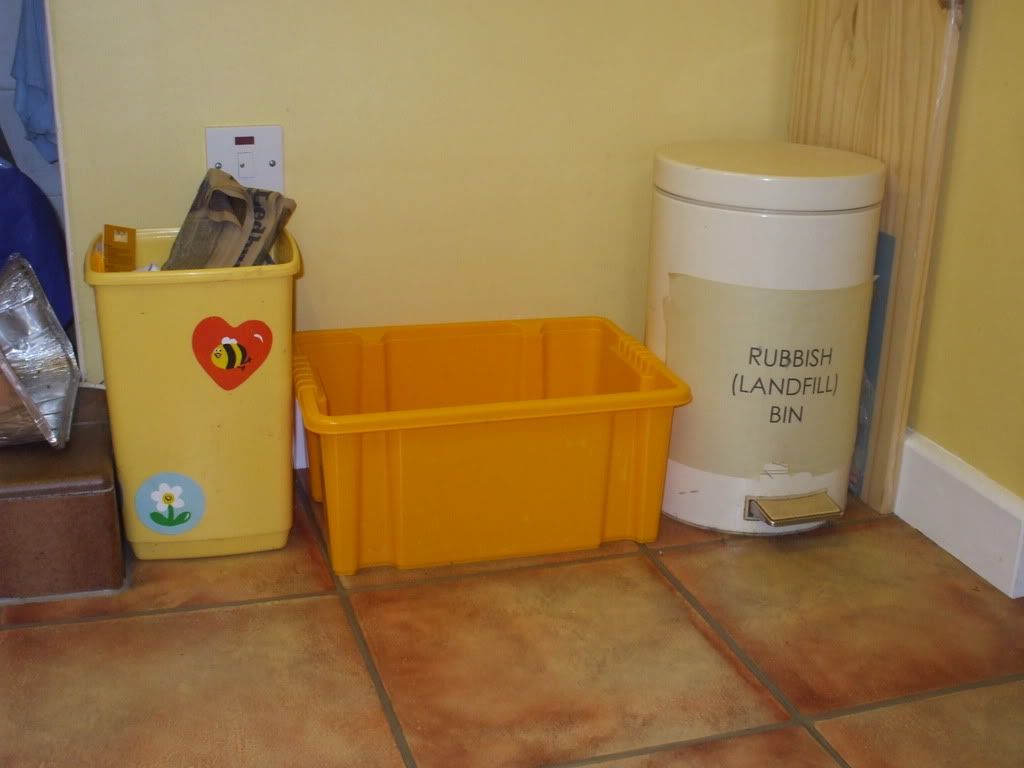 This is the corner of our kitchen where we sort out the recycling, compostable dry stuff ( the wet compostable stuff goes in a caddy by the sink, see the cider and wine posts a few pages back!) and the stuff which has to go into landfill. We try to minimise the stuff going into the landfill bin by not buying it in the first place as once in the landfill bin it goes to a big hole in the ground ( Landfill..nice euphemism!) - where it sits decomposing and generating Methane if otherwise compostable ( Methane is 23 times a more potent greenhouse gas than Carbon Dioxide!) OR just sits and does nothing useful except fill a hole in the ground and be part of a disgusting mess for future generations to be appalled at how wasteful the previous few generations were...EVEN THOUGH WE KNEW what a mess we were creating...
As you can probably guess EVERYTHING which can be composted here, gets composted....and if we can recycle it, we do, and we avoid buying it if we can't recycle it ( under normal circumstances... but read on...)
So, what has prompted my somewhat ranty post? Well, as regular readers may remember we have fairly recently acquired 3 new cats, Sid the nearly (now)year old cat, and Tom and Tabitha the (now) 6 month old kittens. We also have Kitty Cat the elderly resident puss. Kitty eats what he catches, supplemented with cat biscuits; the late beloved Monty Puss used to eat small quantities of cat meat and mainly biscuits so this wasn't an issue before, BUT now we have kittens we have suddenly started to get through a HUGE quantity of cat meat!
ANYWAY, with Monty, we always used the little foil cartons, as he had a small appetite and a can would go off or HE would go off IT before it was finished...so anyway, either can OR foil tray went into the metal recycling box and off to the recycling bin whenever Compostman or I were going past one.
But NOW we are buying "kitten" food, and can you get it in cans or foil trays? can you HELL....it all comes in plastic "pouches"...which of course are NOT recyclable!
SO I am faced with buying kitten food in plastic ( on the left) and throwing the empties in the landfill OR getting non kitten food in cans and being able to recycle the empties.
Whose bright idea was it to market plastic pouches? Did whoever think ..."Oh yes, lets sell cat food in non recycleable plastic rather than endlessly recycleable cans...." I am sure they didn't! but the end result is..a recyclable packaging option replaced with a non recyclable , fossil fuel using package...grrr.
Guess which option we chose to buy? Yes, the cans.....and before anyone shouts "Kitten cruelty!" We DO also feed them kitten biscuits ( which we get in a cardboard box...) .....so no accusations of kitten cruelty, please!
I really wish there was some joined up , adult type thinking over all this....why can't "TPTB" just decide that all packaging HAS to be recyclable...no ifs, no buts...and ideally easily compostable in home compost bins as well???
PS I feel ever so slightly guilty at the amount of food being bought for what are basically an indulgent luxury pet, when there are people who die from lack of food...but that's another post I think!)