It is Apple Day on October 21 st. Coincidentally, this Apple Day weekend we have been making...CIDER!!
Apple Day, 21 October, was launched in 1990 by Common Ground. The aspiration was to create a calendar custom. We have a way to go yet, but some already think the event is traditional. We should like the day to become the autumn holiday – what better celebration of a new era positively linking culture with nature.

From the start, it was intended to be both a celebration and a demonstration of the variety we are in danger of losing – not simply in apples, but richness and diversity of landscape, place, ecology and culture too. Its success has shown what the apple means to us and how much we need local celebrations in which, year after year, everyone can be involved. In city, town and country, Apple Day events have fostered local pride, celebrated and deepened interest in local distinctiveness.

Apple Day is now an integral part of the calendar of many villages, local authorities and city markets. It is a focus for activities organised by the Women's Institute, National Trust properties, Wildlife Trusts, museums and galleries, horticultural societies, shops and restaurants as well as for schools, colleges and environmental study centres.
Two friends of ours who live nearby are keen cider makers and last year started up their own mobile pressing business,
The Little Cider Press
. (Note > Keen readers of my blog will remember we did this last year.....sorry.....but my posts WILL be a tad repetitive from year to year, that's the way it IS with growing stuff and harvesting it and living more in tune with the seasons....LOL.....such is life when you are more self sufficient, the passing of the year is marked by the same old, same old!! )
On Sunday we all went round to their place ( just across the fields, but all the apples dictated using the car!) with a car boot load of our apples for the Compost Mansions Cider production 2008.
The Little Cider Press press your apples and you pay per 25 L of Juice produced. This year Nigel and Deborah have added the ability to bottle and pasteurise your juice as well! They can do batches of 14, 75 cl bottles of your juice at a time, for you to take away.
So on Sunday we took round about 100 Kg of Bramley, Fiesta and Tom Putt apples, hand picked and carefully boxed, from our orchard. The VERY best apples have been carefully put into apple boxes and stored for eating and cooking during the winter and early spring. The windfalls are left for the hens and wild birds to eat. Blackbirds especially LOVE fallen apples!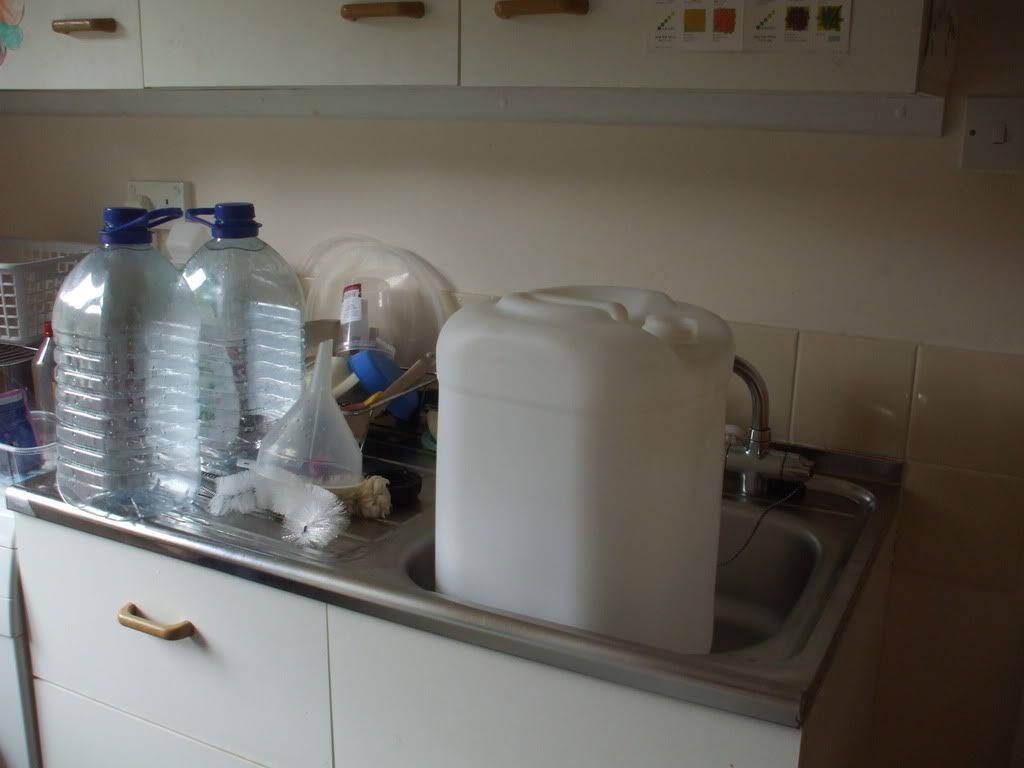 Washing out all the demijohns and the 25 l cider container in our utility room aka "the glory hole". My job! It is a LOT of work to get containers clean as apple scum is the most difficult thing to clean off I have EVER found! Worse than other winemaking fermentation products.
Clean containers sterilised and waiting to go (phew)!
Apples loaded into the boot of my car, around 100Kg in there! Bramleys (a cooker) Fiesta (Eaters) and Tom Putt (Cider/Eater)
At The Little Cider Press, Nigel (on the trailer) gets ready to work.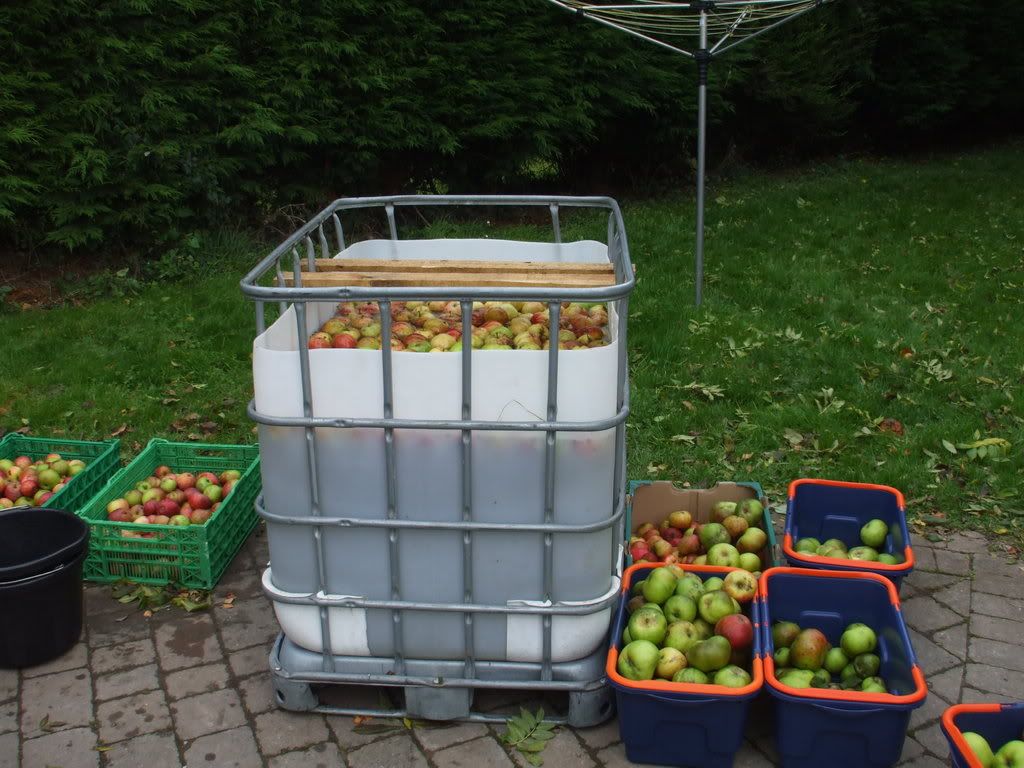 Apples waiting to be washed.
Compostman checking the apples in the washing tub.
Milling the apples in the scratter(chopping them up so as to get maximum juice from them)The apples for the juice were done first, they have to be damage free and of less than 80 mm diameter.
Compostwoman putting apples in the scratter to chop them up. Note
I
am short and have to climb up on the trailer to do it !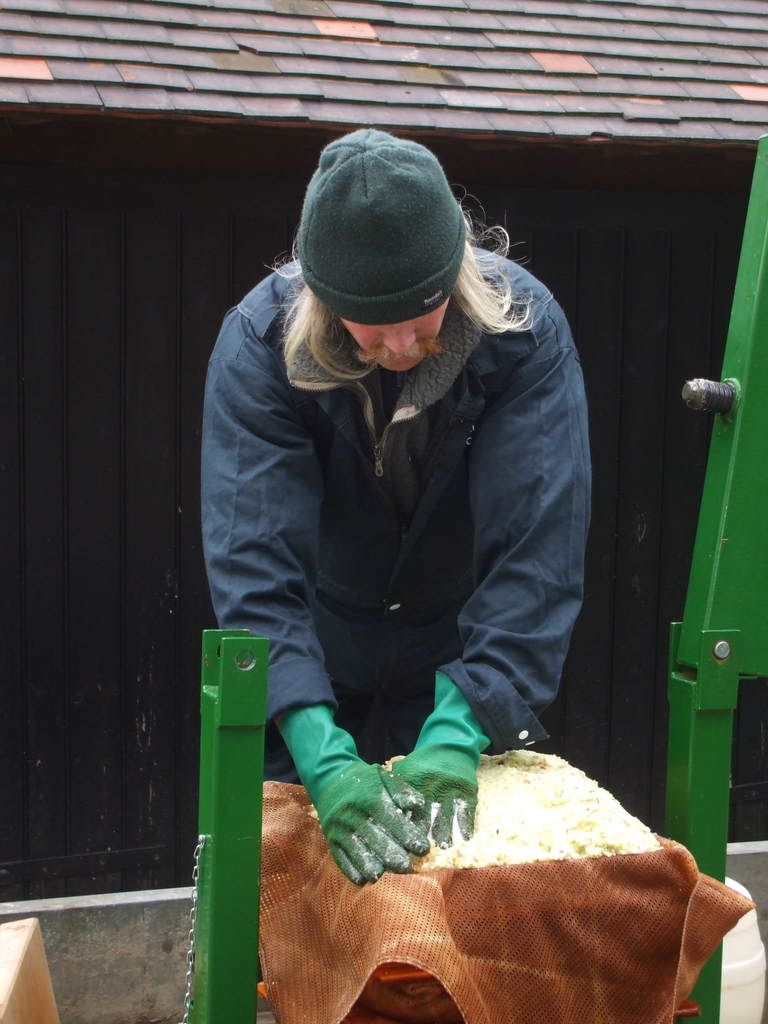 Nigel from "The Little Cider Press" making up a "cheese" from apple pulp.
Nigel is building up cheeses with the pulp. Putting the pulp on to the cloths which sit on top of a (traditionally acacia) wood slatted frame.
The apple pulp is put in cloths and layers are built up. The cloths and frames are stacked up into a "cheese" Then the layers are pressed to get out the juice.
Lots of lovely apple juice from pressing the apples in the press. This first pressing went into the bottles and was pasturised. It was mainly Fiesta apples with about a quarter Bramley seedling as well.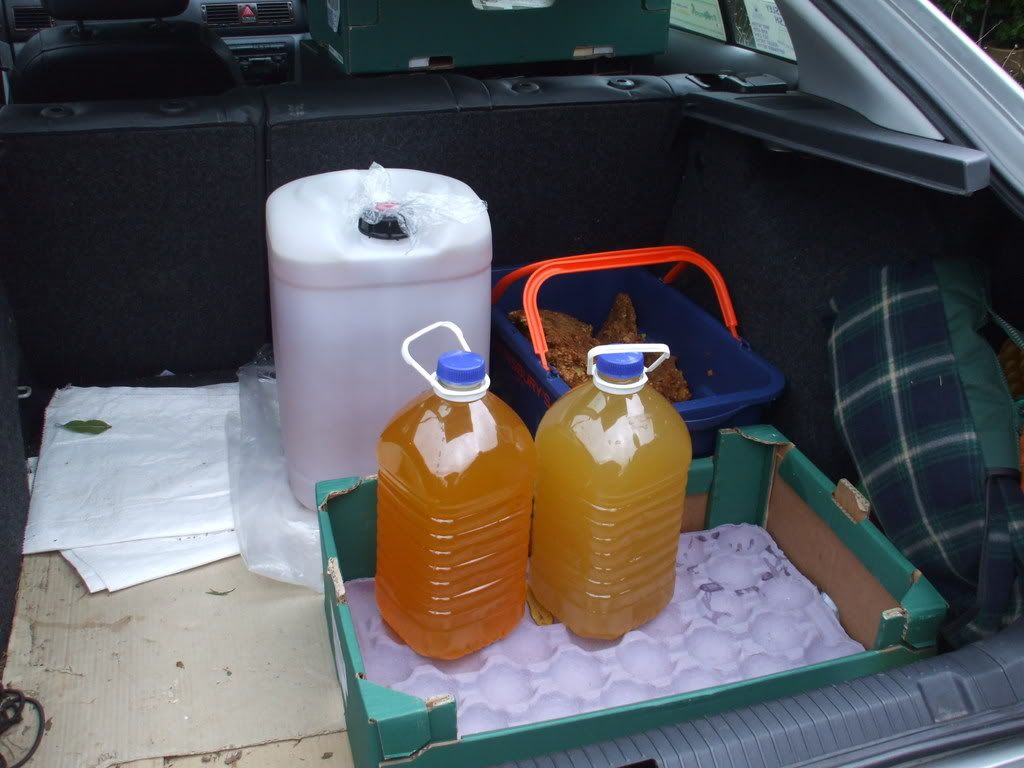 The boot of my car at the end: 4 boxes of pomace ( apple pulp)to add to our compost bins ( no surprises there, then!), and 35 L of apple juice to make cider.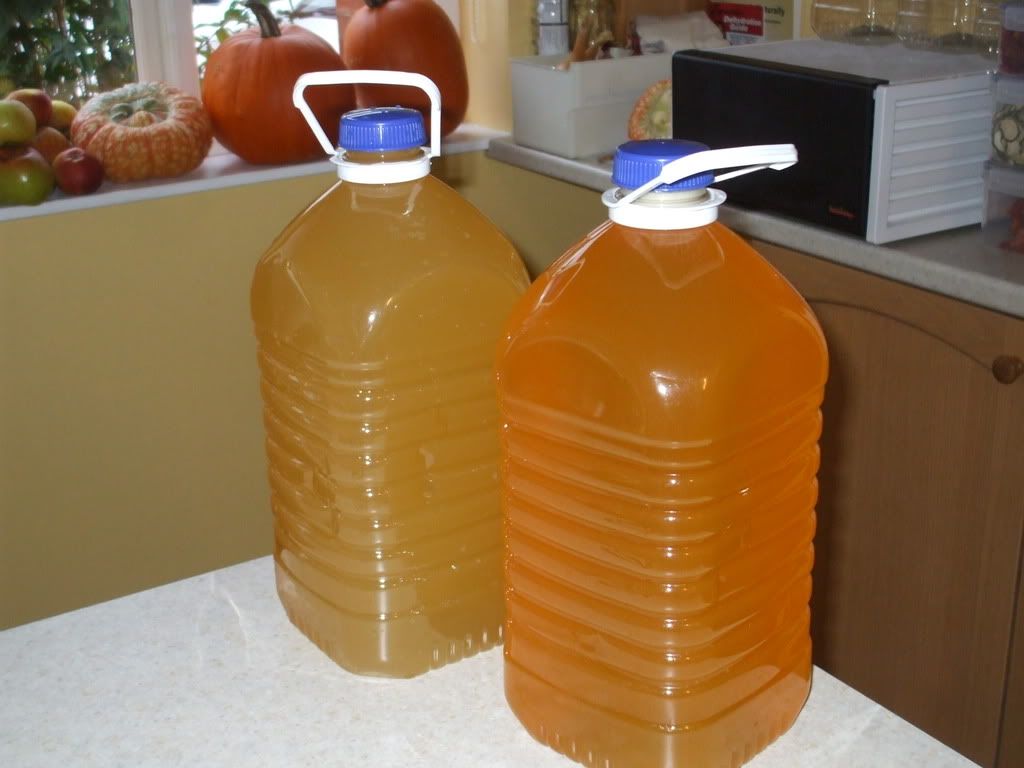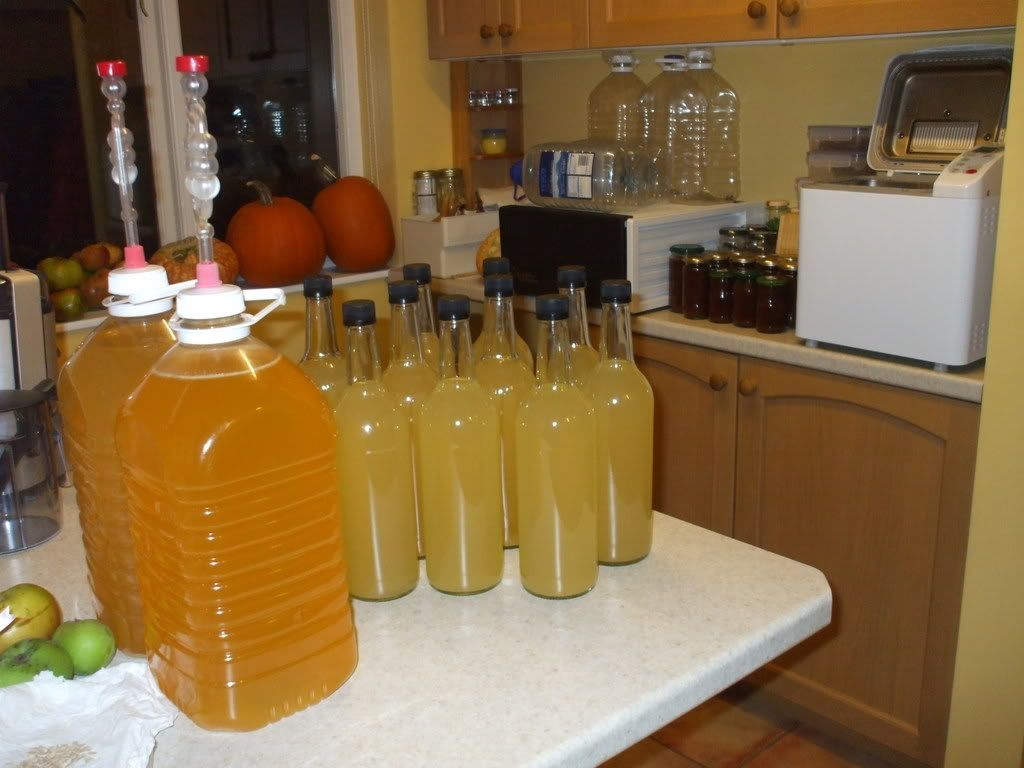 Add an airlock to the fermentation vessel and leave for a week or so and hey presto...fermentation begins!!
and also we have 25 bottles of pasturised apple juice. Shall I label it "Compost Bin apple juice" or what?
It was a really fun afternoon, several other people came round to get their apples pressed and we drank a certain amount of cider.... ( hic!)
One of the many things I LOVE about where we live is the oppertunity to participate in this kind of stuff, and also that Compostgirl gets to experience all sorts of events than other children just never get to do!