Aromatic posted recently on her wonderful blog,
The Winds of Change
"Parts of my life.... We all have 'things' we have as part of our everyday life apart from family,friends, pets etc. Here are just a few of mine....."
and then she posted up some wonderful pictures, sharing her life and thoughts with us...and it set me thinking...I post up pictures of what I DO on here, but I don't really post up pictures of my life which shares how I FEEL. I tend to "report back" on what I have been up to, rather than using my blog as a general diary. I am very much a DOER and I feel my thoughts and feelings are rather more private. Obviously I also don't want to post TOO much about Compostgirl, for obvious reasons!
BUT, always being willing to do something new, I decided I would do a post where I took photos of things which would show
something
to others about me......a post which had things in it which mean a lot to me or which friends who know me would say "thats SO Compostwoman!" , a post which wasn't about a specific task we had done! AND HERE IT IS...I didn't edit these pictures, I just took my camera, wandered around the house and garden and snapped.
The wildife I love and am passionate about protecting. We have so much wonderful wildife around us, with our wood providing protection and food for many more vulnerable species. This is the Orchard Robin, he/she will sit on my hand if I offer food. This Robin also has the veg patch in its territory so it is well fed!
Books! Endless piles and bookshelves FULL of books! Every room in this house has bookshelves of books.
I love this bowl. It is by a talented local ceramic artist called Rachel Padley, she also made my Green Man, who hangs on the dining room wall and is crowned throughout the year with appropriate garlands, to honour the Wheel of the Year. This bowl was a Yule gift from Compostman and Compostgirl a few years ago.
These next two photos show craft items made by my late MIL. Sadly I never really knew her when she was fully compos mentis, the Alzheimer's which eventually took all her faculties away had already started 20 odd years before she died and when I first met her,she was already declining mentally from the woman she had been in her prime.
A beautiful Table runner, embroidered in tiny stitches. Its wonderful and sits proudly on my dressing table where I can admire it everyday.
It's a great sadness that both my Mum and Compostman's Mum died long ago, my Mum in 1989, my MIL in 2003, I miss them both and especially now as I try to recreate all the things from books and memory that both Mum and Mum would have just been able to tell me about! If they were still here (they would both be VERY old, MIL 98, my Mum 92) I could ask them about canning and bottling, knitting and quiltmaking, lace making, baking, all the many things they both did to make a home. I could ask them about their lives and how they felt and did things.
My MIL was a teacher, my Mum had several careers but her last job was as a School Dinner Lady at MY primary school- I now realise she took the job so as to be at home when my brother and I came home from school.
Both Compostman and I were children of older Mums and they both were adults in the
2nd World War and children during the Great War so there would be so much to talk about! We both DID talk to them when they were with us, but you don't really when you are young, do you? You rush and work and get on with your own life....a shame.
Goodness that musing came up out of nowhere! Anyway, I like to use things of theirs and keep their memory alive, I think that is the best way to honour people who have died.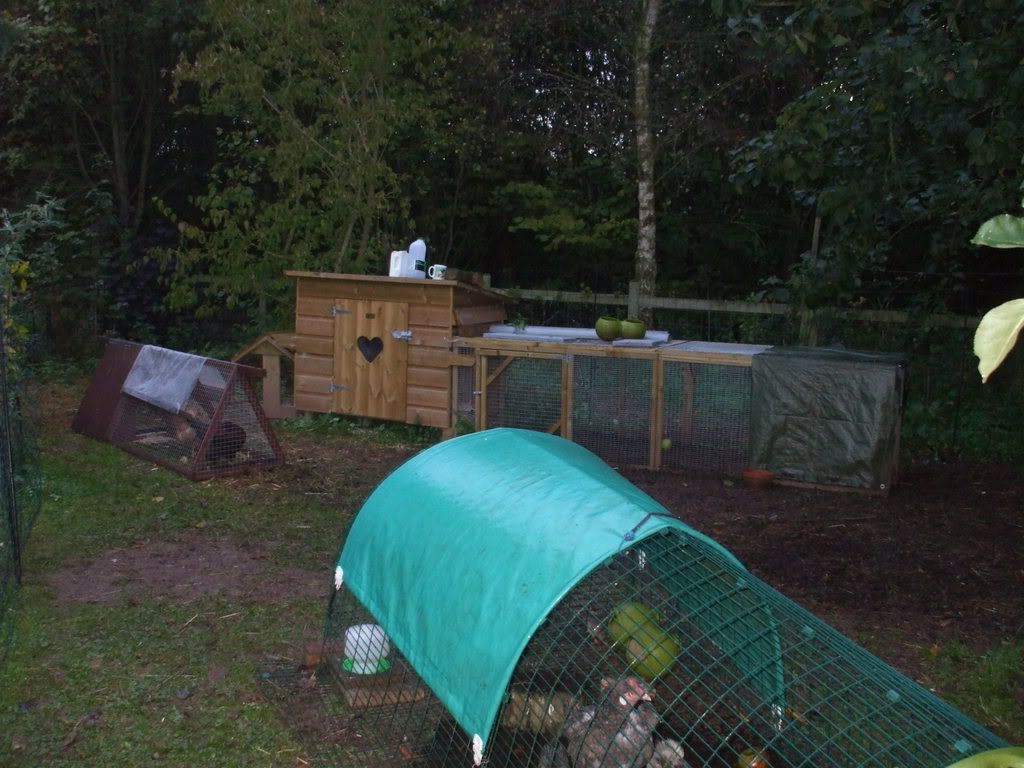 My Hens! I KNOW we were meant to stay off Family and pets, BUT the WAY I am about my hens is WHO I am, so I have put in a photo! They are mad but I love them all dearly.
This one shows my passion for Environmental Education work. The Master Composting, Eco Club, training as a Forest School Leader, Environmental campaigning I have done, the Consultancy work, growing and selling organic vegetables...all these are a HUGE part of "me".
More books! In our bedroom this time. I had just made up some base oils into my facial oil and some toner from floral waters. Lots of aromatherapy books on the shelves, lots of historical fiction too! Essential Oils are hidden away in the dark to protect them and preserve their properties. I use the knowledge I gained from Diplomas in Aromatherapy, Indian Head massage and Body massage all the time, its as natural to me as breathing, to massage away pain or absorb it or annoint it with essential oil blends to ease away a discomfort.
The colourful scrunchy was from last years Big Green Gathering when I helped in the Big Green Idea marquee. That was a new experience for me! 25 years ago I used to go to festivals and camp. But that was 25 years ago! I went last year to the BGG and camped alone and spent a week away from Compost Mansions and my family. I met up with friends from the INEBG forum and had a wonderful time. It was an exhilerating experience and made me realise I NEED to keep challenging myself to do new things, to learn new things, in order to be a happier person!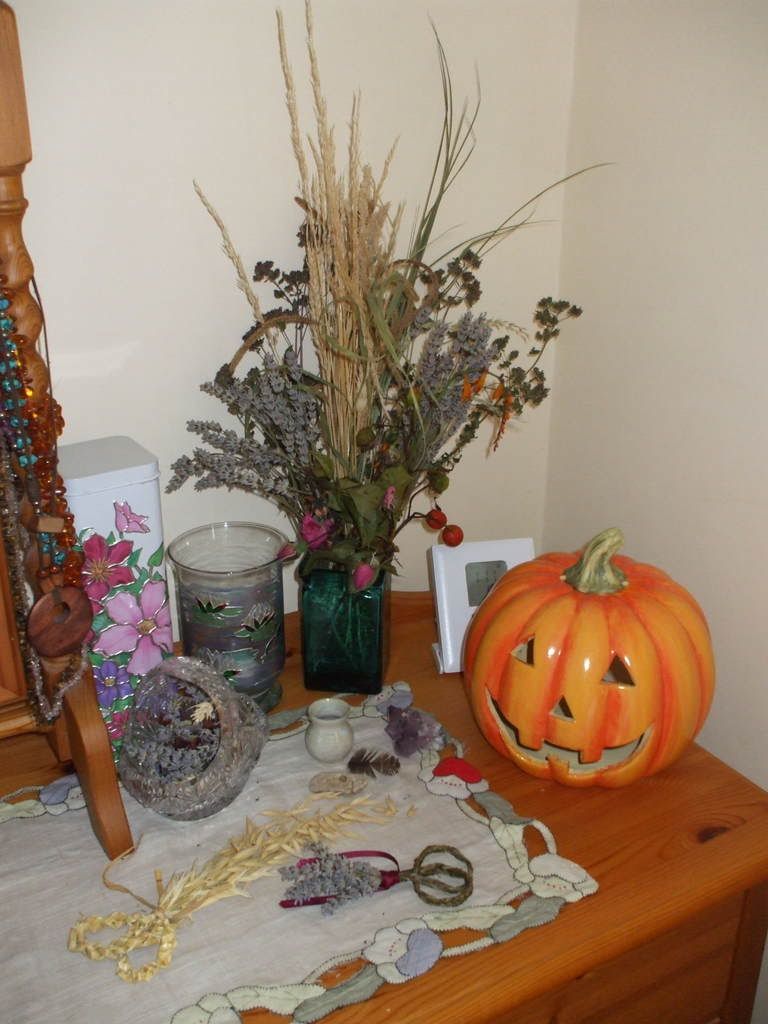 A Craft ( and craft) corner. I honour the changing year in various small corners all over the house. The ceramic pumpkin is to save my precious real ones being carved and going mouldy. I would rather they made soup!
More than anything else these next three photos are the three things which sum up "me" I think! MY Compostbins: Somewhere I go to feel the magic working!
The Polytunnel, it acts as my shed and my sanctuary when life gets too much! I love the whole process of planting seeds, nurturing them, watching them grow, produce food and then die back to be turned into compost, to feed next years seeds......
The Vegetable Garden, looking a little unkempt now, but still good food there, hidden from view, waiting to be harvested later on in the year.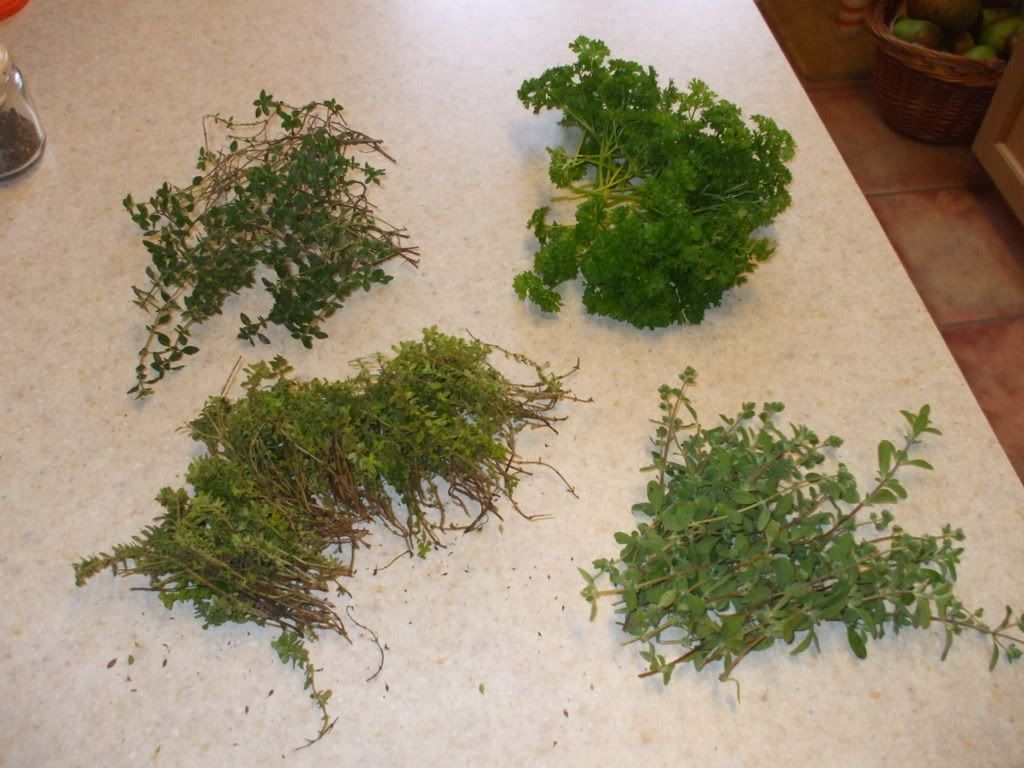 Herbs waiting to be dried, used for healing and for cooking, used always with love and care !
This sums it up really: Preserves, wine, cider, harvested fruit and vegetables, jars waiting for me to fill with the goodness we have grown with our own hands on our own land, all in the kitchen Compostman built for the three of us to shelter in.
I hope you enjoyed this more personal glimpse of my life. I enjoyed doing it, and it has brought up some interesting memories and thoughts. So thank you Aromatic once again for the idea.